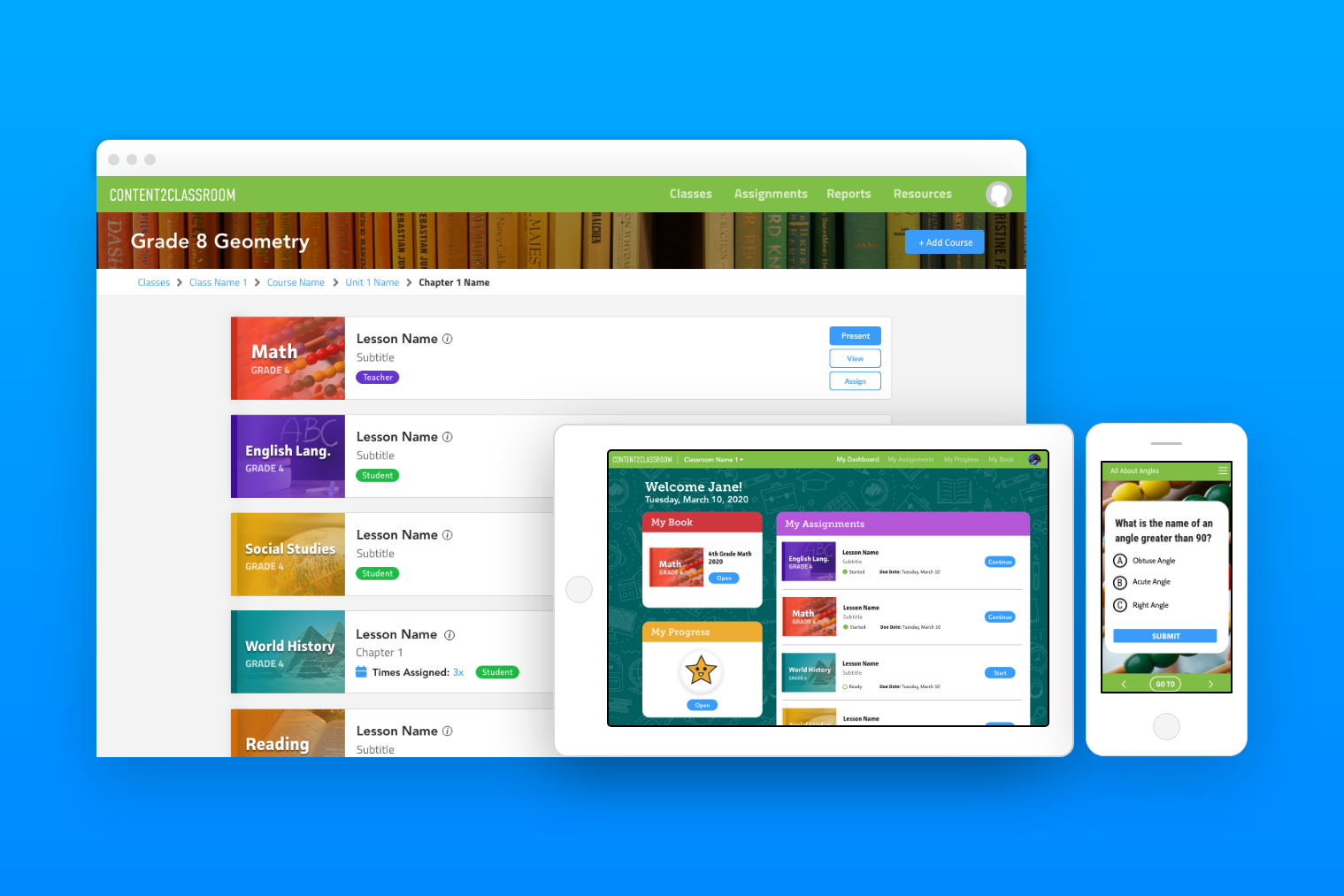 Project Overview 
The Company / Product 
Content2Classroom is a Ed-Tech web platform that helps textbook publishers build and launch a digital option of their print curriculum to schools across the United States and Canada with a
B2B Builder Web App
and a
B2C Customer Facing Web App.
The Problem  
In order to win contracts with school districts, and meet the demand of 63% of schools using digital devices in classroom instruction, textbook publishers need a fast and affordable way to deliver a digital option.
Project Goal 
Launch an MVP in 4 months to help an early adopter of Content2Classoom go digital for the upcoming school year.
Team Size / Duration
14 People (Design, Eng, Product, Leadership) / 6 months.
- Helped scope project.
- I lead UI and UX Design of the 
B2C Customer Facing Web App.
- Established visual design system.
Results
- Launched MVP on time.
- Customers-to-Date: 10 Textbook Publishing Companies
- Users-to-Date: 1 Million in the USA and Canada
What I Did (Highlights)
​​​​​​​
01 : I helped scope our MVP.
02 : I led visual design for the customer app.
03 : I established a design system.
01 : I helped scope our MVP.
While Content2Classroom consists of two applications that includes a B2B Builder App for Textbook Publisher to build digital textbooks, I led design for our Customer Facing Web App, where the customer of each publisher would have a "white label" web app for their customers to access their branded curriculum.
What to see the full case study? Lets's chat!