Challenge
I worked with the creator of LeashAnchor (one word) as a freelance project to design and code a responsive website for this new retail product. LeashAnchor is a small yet durable  connected to their dogs leash that allows an owner to "anchor" their dog in a specific place while on a walk. Developing a one-page landing page sounded easy, but the challenge lay in making a simple product concept that had multiple parts to assemble effortless to accomplish and use.
Approach
The goals of Leash Anchor dot com was to create an introduction to the product, show how the product works have a clear call to action to purchase. After a discussing a number of concepts that has multiple pages, we ultimately determined a simple landing page approach be the most effective.

I built a brand color palette and the look and feel of the site based on a existing logo supplied by the client and the color of the product which had already been produced.

Certain elements of the site provided challenges. On desktop, the banner image and call-to-action worked harmoniously, but on mobile and tablet the call-to-action obstructed the image. We decided to make a separate instance where the information would be appear below the image but "above the fold" for smaller devices.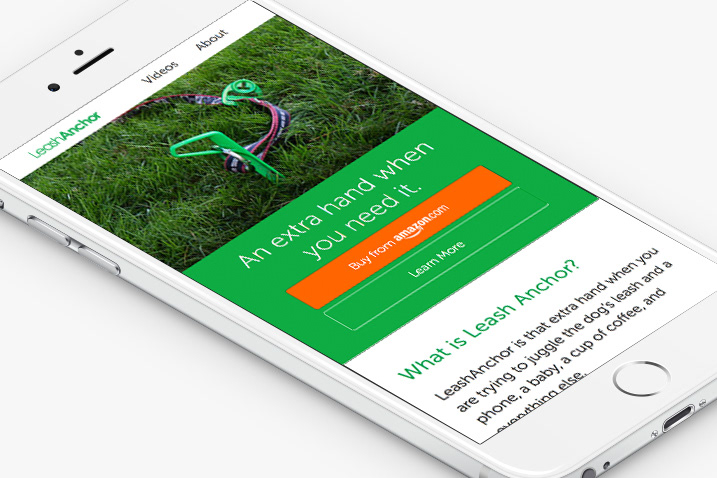 Result
LeashAnchor dot com has recently launched and is sold on Amazon. We created an attractive hang tag for the product with assembly instructions. Our next steps are creating product awareness and getting Amazon.com reviews.