I lead visual design and contributed to a new user experience for "The Stream", a community space in​​​​​​​
Ogment
that allows educators to share instructional content with peers in their school district. While that format served educators well, they requested a range of new features that would enable them to do more than just share content. Creating multiple new areas of functionality for teachers and administrator, two similar but different user types, would be complex.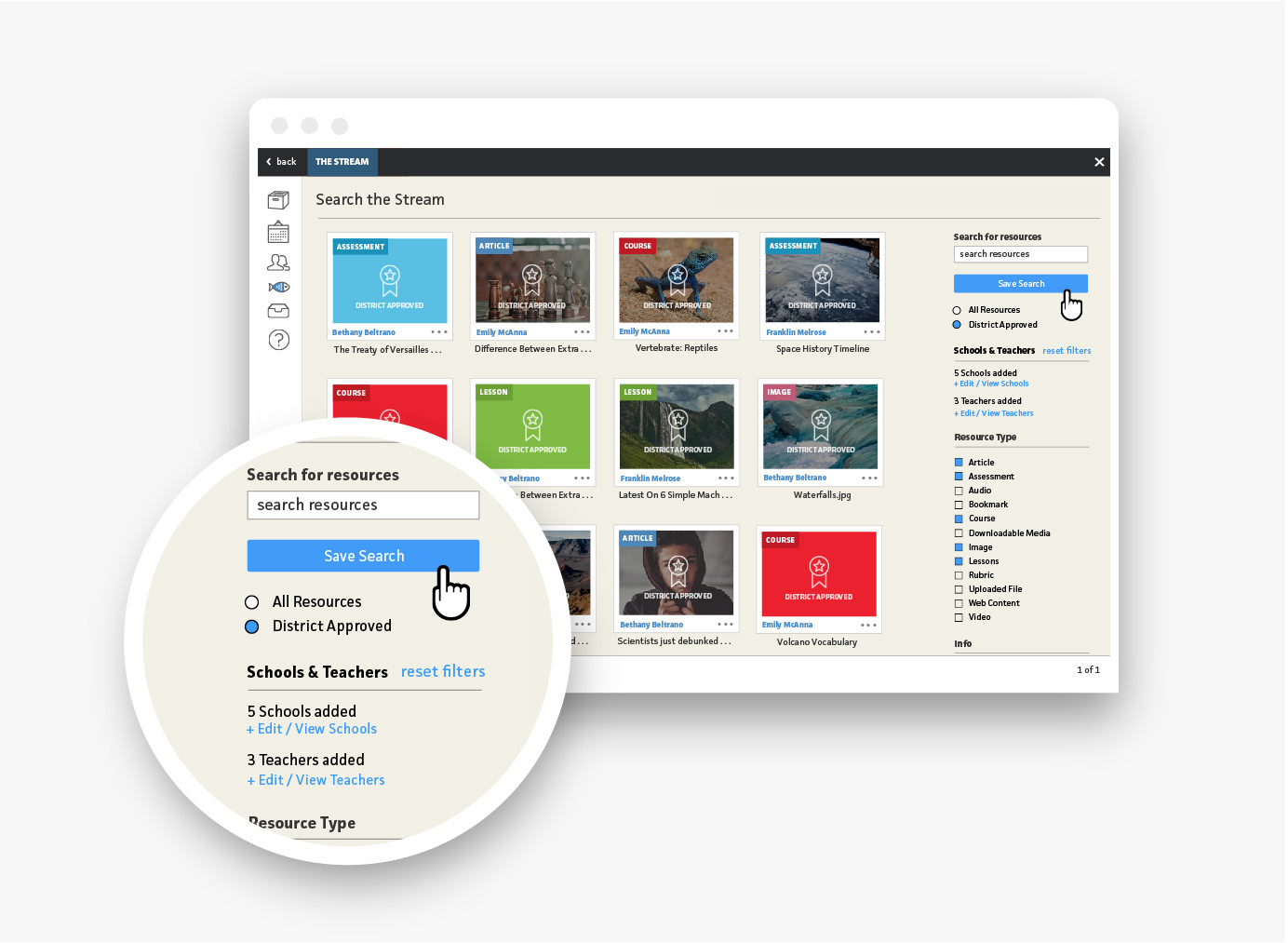 Approach
At the start of the project, our lead product trainer briefed the team on feedback gained during training sessions:
1.
Both teachers and administrators requested the ability to create their own custom streams based on instructional content of their choosing.
2. 
Administrators requested the ability for content to be submitted for review before being published to the stream or flag content with issues.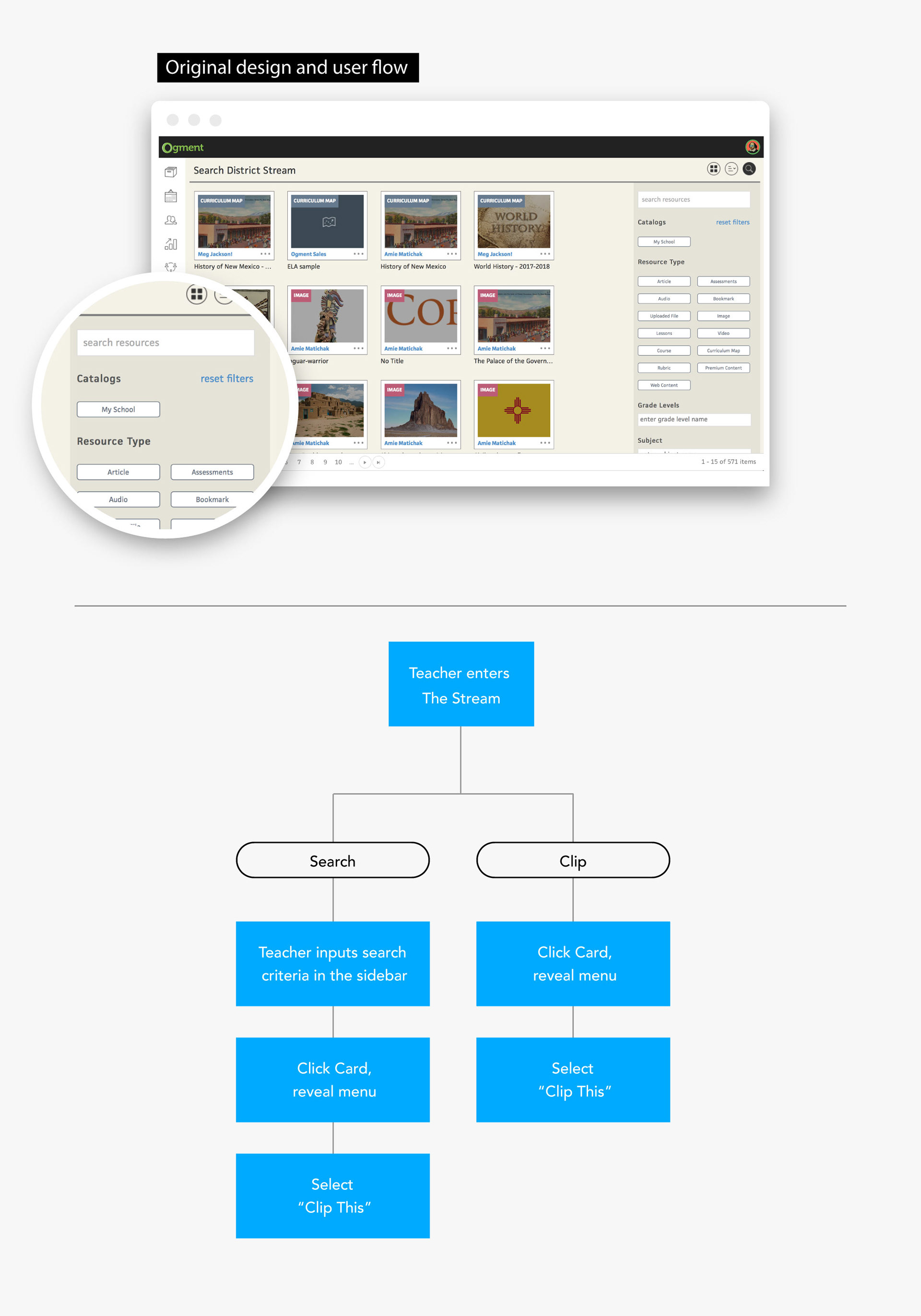 The existing landing page was a searchable feed of recently shared content, which didn't seem to match educators needs as the starting point. Myself and our Creative Director started by thinking holistically about the new experience. We proposed a new dashboard landing page with colorful cards that would provide an entry for teachers and administrators to access content based on district, school, custom, approval and reported.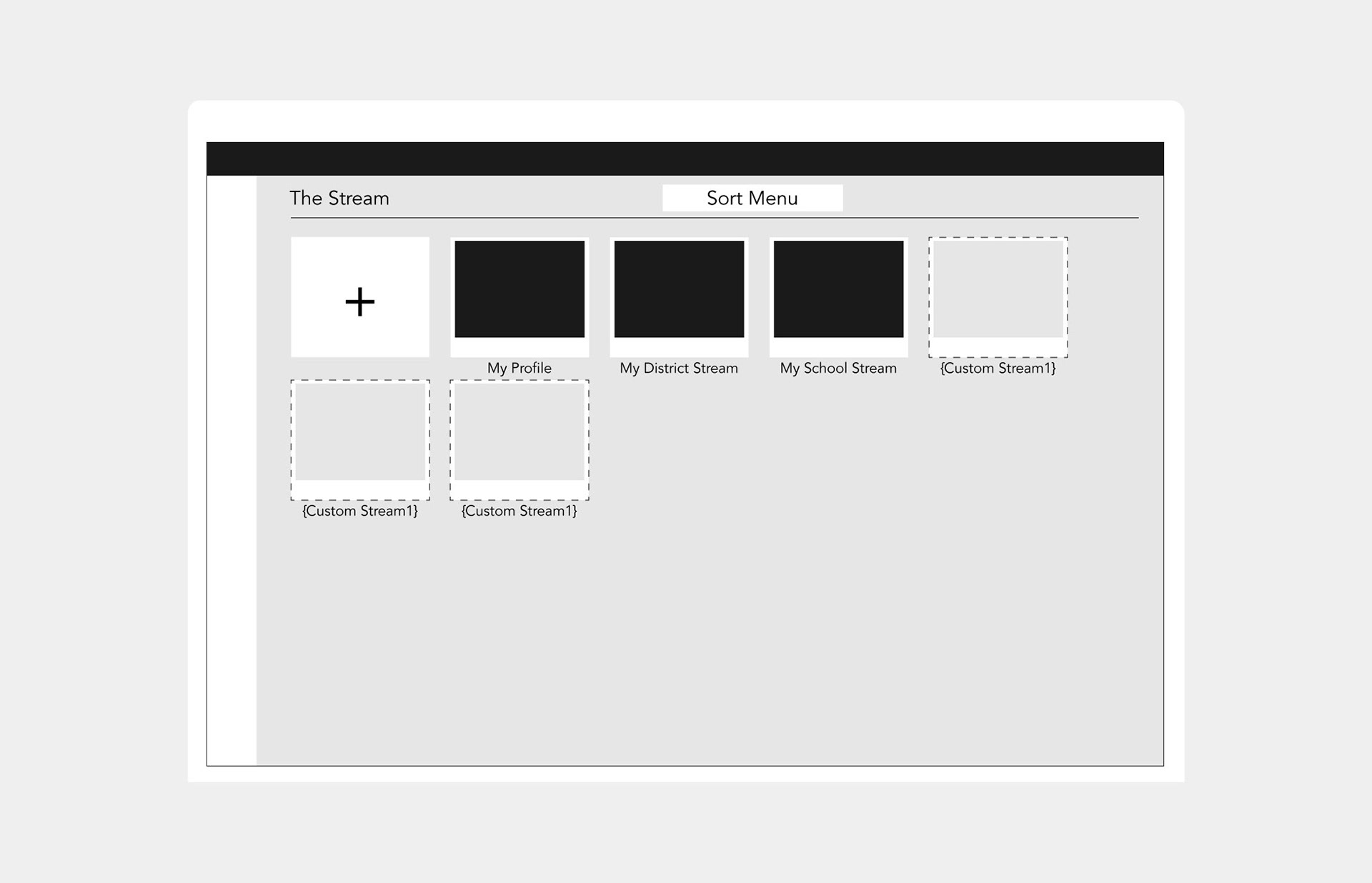 Creating custom content streams
I applied visual design to wireframe concepts for creating "custom content streams". One allowed educators to create folders of selected content, while another would update automatically as new content such as "Grade 7 Social Studies" entered the stream.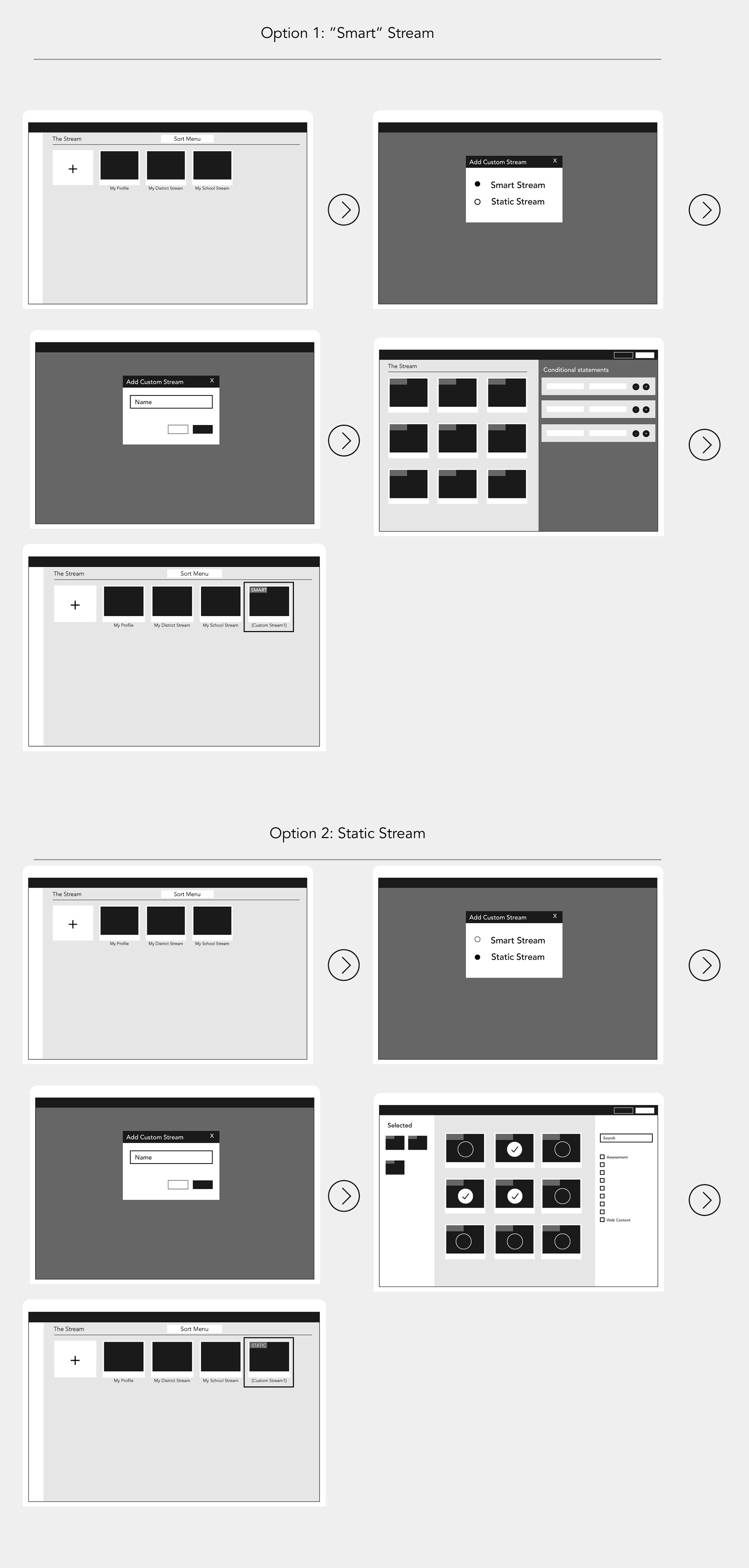 Our lead product trainer put the new design in front of educators to get their feedback.
+
They liked the new landing page and how it offered quick access different content.
+
Testing "Custom Streams" allowed educators to better articulate why they wanted to access specific content in the first place. They felt that entering the same search criteria each visit, like "Grade 7 Algebra Lessons" or "Space and Technology Videos", was tedious and wanted the ability to save frequently used search criteria to save time.
Changes: "Custom Streams" becomes "Save Search"
I wireframed new concepts for saving, naming and accessing search criteria. Educators asked for schools and individuals to be added as filter criteria, which provided challenges in terms of vertical space in the sidebar. Displaying names with check boxes for every school and student would be information and data overload. We decided to allow the teacher to go to a seperate search page to select schools and students to be added to their filter criteria.


Since the design of the dashboard resonated with our feedback group, we used it to provide easy access to saved searches. Rather than putting saved criteria in a dropdown in the sidebar, new saved searches would be appear in a card on the dashboard—it would be only a click away and could be updated.

Administrator View: Review and approve content
While I was present in meetings about creating workflows for submitting content for stream administrators to review, I contributed primarily to UI decisions that would make the process easy to follow.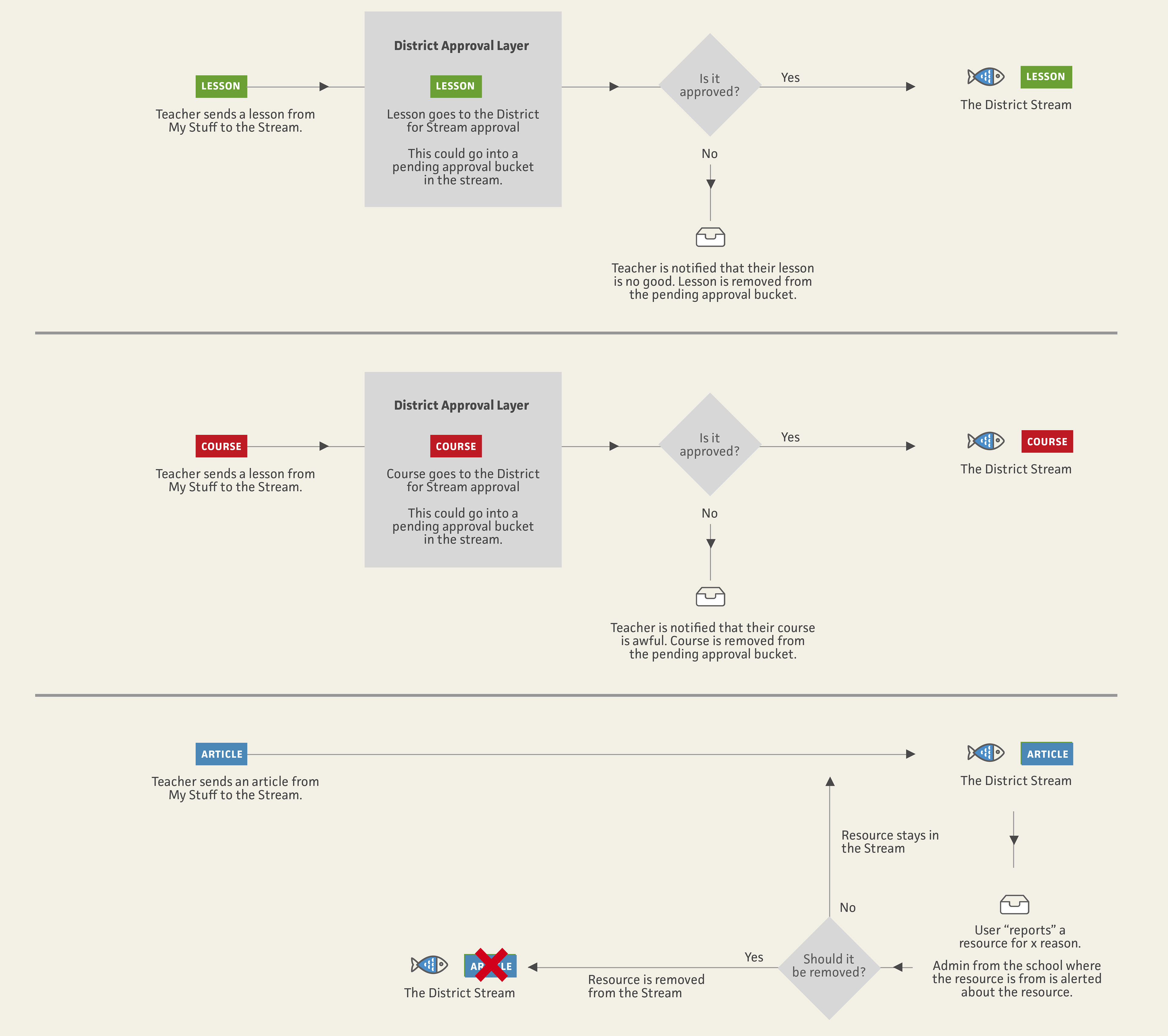 Admins needed several new functions to enable them to review content. On the administrators dashboard, I added cards for "Pending Approval" and "Reported Content". Displaying a count of items pending review helped quantify the workload better than a pretty icon would, while differentiation colors gave the page color and implied separate functions.
Reviewing content: "Reported" and "Pending Approval"
When reviewing content, an administrator needed clear messaging of the actions to take. 
For
"Reported Content"
in the top corner of each review page, I used a solid red button for  "Remove from Stream" and a solid blue button for "Keep in Stream" to differentiate the two actions.

For
"Pending Approval"
, I added red and blue modals and buttons for "Keep in Stream" and "Remove from Stream" to differentiate the two actions.

Notification page: New buttons and icons
I added text link buttons to each content submission notification to "Preview" "Approve" and "Deny" for quick access to Administrator's existing "Notifications" page. I added icons next to messages to denote the message category.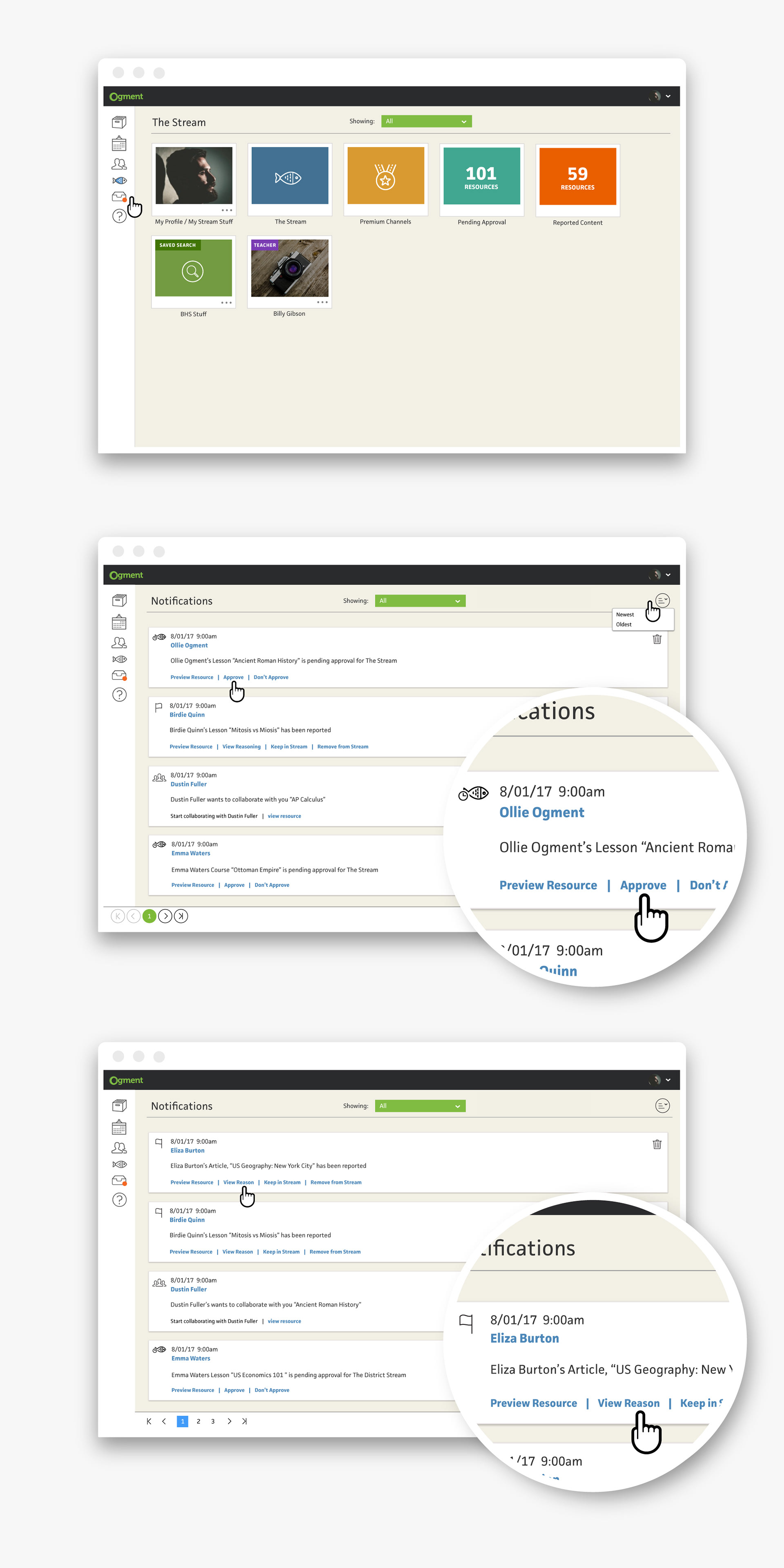 Outcome 
The original stream was a simple feed of instructional content. The new stream is an enhanced experience with multiple new features for teachers and administrators that make it easier to use, quicker to navigate and customizable to their needs.